Live Feed

Angie Ruebush
6 days ago
Pikeland Bus Drivers learning new laws and preparing for the day. We appreciate all that they do! Thank you! View Image

Pikeland Schools
about 6 hours ago
Pikeland schools will be closed today, Thursday, because of the weather.

Pikeland Schools
6 days ago
Thank you to Senator Steve McClure for joining us as Principal for a Day at Pittsfield High School! It was a crazy, shortened weath ... View Image

Paula Hawley
6 days ago
PIkeland Schools are now dismissing at 10:05 for South, 10:10 for Pittsfield High School and 10:15 for PCS today due to the incomin ...
SEE ALL posts
News
2019-2020 Pikeland Activity Calendar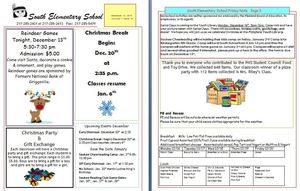 Here is the news for this week. Don't forget Reindeer Games tonight!!
SEE ALL NEWS