Thank you Class of 1954!Pittsfield High School Class of 1954 Scholarship Fund PO Box 205 Pittsfield, IL 62363 classof1954scholarship@gmail.com PHS Class of 1954 Scholarship Fund Awards Grant to Pikeland Unit 10 The Pittsfield High School Class of 1954 Scholarship Fund recently awarded a $25,500 grant to the Pikeland Unit 10 School Dis...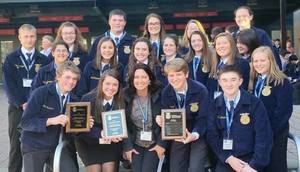 Out of 8,569 schools, Pittsfield FFA was named the 2017 National Premier Chapter: Building Communities at the 90th National FFA Convention in Indianapolis. Pittsfield FFA gave back to the community by gathering names of each active-duty military member and making signs to hang around the square and to streets around town. The project was named "Heroes Among Us"....
Pikeland Community Unit School District #10 will provide resources and a positive learning environment so all students are given the opportunity to reach their full potential. We believe... students, families, teachers, support staff, administrators, and community members must set high expectations for student learning and behavior.students come from a variety of bac...