Attention juniors and seniors the April 4th National ACT test date has been cancelled. ACT will move you to June or July dates that align with your selected testing area.


PHS Students - Happy St. Patrick's Day - I hope you are participating in our Virtual Spirit Week! Mrs. Greger

I am excited that tomorrow will kick off the first-ever Virtual PHS Art Show!! Each school day Mrs. Davidsmeyer will load a picture of artwork completed as part of her student engagement assignments! Check-in each school day to see who our featured artist will be.

Let me start by saying that there is no playbook for doing what we are doing. The game and the rules change daily. Times like these require us to think on our feet and certainly outside of the box! Over the past few days we have had tremendous support from our staff, families, and communities to help get student learning in place while still being aware of the implications and restrictions imposed on us by the COVID-19 Coronavirus. On Wednesday of this week and next, the Pikeland Snack Pack program in conjunction with the Pikeland School District will be at 11 locations in the district handing out grab and go snack pack/meal bags of non-perishable items from 4:30-6:00. This will be a quick pickup process with bags delivered to each vehicle as you arrive.Please stay in your cars when picking up bags, and we will ask for student names as you receive your bag. There will be one bag per family but we will be flexible with families with a large number of kids. Pick up points on Wednesday from 4:30-6:00 will be: Baylis--Post Office Detroit/Florence--Detroit Christian Church Milton--Christian Church Nebo--Old School New Hartford/Summer Hill-- Ackles New Salem--Post Office Pearl--Jiffi Stop Rockport--Community Center Time-Park Square PIttsfield--Nazarene Church Community Center Pittsfield--Crossroads Center We will post any changes to the program here as we move through the next week. If you have specific needs, please contact us and we will help you in whatever way we can. We can be reached at 217-285-2147 M-F from 8:00-1:00. Paula Hawley Pikeland Schools

Why not have a VIRTUAL SPIRIT WEEK? Send photos to
lshade@pikeland.org
and/or tag Saukee Yearbook in a post with your picture for your photo to be used in the 2020 yearbook. #Coronacation #PHSVirtualSpiritWeek

Pittsfield High School - Please join us in a virtual spirit week. I will note on the website how Mrs. Shade would like for you to send her your spirit week pictures. The school is very quiet without all of you! I miss you! Mrs. Greger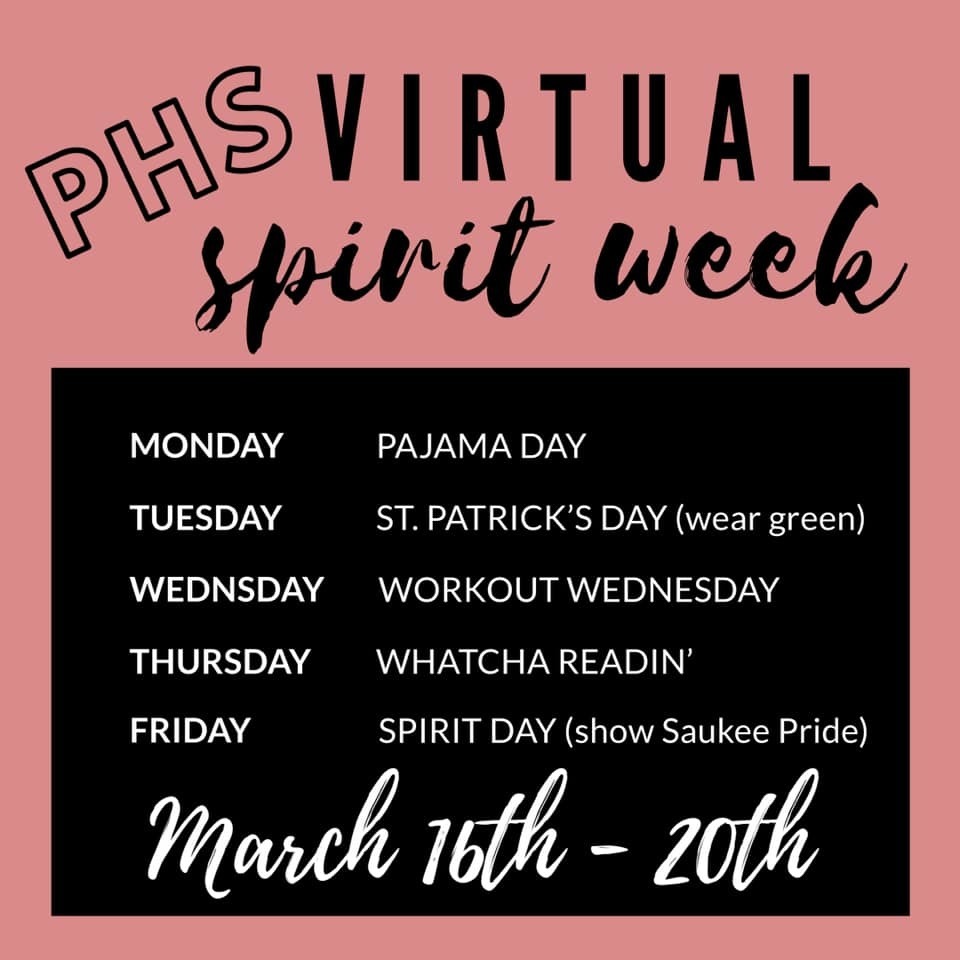 Saukee Yearbook desperately needs photos of you and how you are spending your time during the school closure. Are you working on the packets your teachers sent home, getting extra sleep, doing chores, playing video games, getting extra hours at work, babysitting your younger siblings, doing workouts/training at home to stay fit for Spring sports, or something else? We are planning on doing an entire Spring spread on this to make up for lost coverage, so we'll need a lot of pictures. Please send photos to
lshade@pikeland.org
or get them to Paige Thometz. They can be cell phone photos, but please make sure they have good lighting and color. If you have a DSLR, we would prefer those, but let's face it, most cell phones today take amazing photos. PLEASE DO NOT ADD FILTERS! You will get photo credit. Please include who took the photo and explain what is happening in it when you send the picture. Thank you!

IHSA Spring Sports Info If you temporarily suspend your spring season, your athletes should not practice or compete with their non-school (club/travel) teams or they will be ineligible for the high school team if and when the suspension is lifted.

Students- PHS will be open from 1-4 today for you to pick up your learning packet, instrument, check out a library book, and get anything out of your locker that you need. I encourage you to take home your dirty clothes from your PE locker today too. After 4 pm today no one will be allowed on school property until March 31, 2020 when you will return to school.

Seniors - Please stop by the GO when you are in the building today to pick up any scholarships that you need to complete. Contact any teacher you wish to write a recommendation for you by email. Mrs. Westbrook and I are communicating with all scholarship donors to adjust due days. I will send messages to you on what those dates are once they are determined.

Based on recommendations from the Regional Office of Education and the Pike County Health Department, Pikeland Schools will now be closed on Monday, March 16-Monday, March 30. School WILL NOT be open on Monday as previously announced. Teachers in grades K-12 have prepared learning packets for students and these can be picked up tomorrow, Sunday, from 1:00-4:00 at each school. Parents can drive through and pick up packets. PCS pickup will be in the front of the school on both sides. PIttsfield High School Students will be able to come into the building and pick up books and packets from 1:00-4:00 tomorrow. You will be able to pick up packets for other students tomorrow. You will just need to tell us what grade level packet you need when you get to the school. After we get through Sunday, we will put a plan in place to distribute any remaining packets. If you need to pickup medication for your child, please request it when you pick up the packet. Thank you for your patience and understanding as we work through this unprecedented situation. We will continue to update you as more information becomes available.

It is has just been announced by Governor Pritzker that all schools in Illinois, public and private, will be closed starting Tuesday, March 17 through March 30. Pikeland Schools WILL be open on Monday, March 16 and we will send learning materials home with your students that day. All school activities, practice, and games will be cancelled starting March 17 as well. We will share more information as we receive it.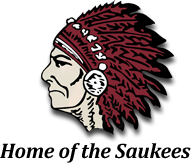 Lady Braves win the 3rd set by a final score of 27-25. They will play in the regional championship v. Quincy St. Peter at 6 PM at PCS. Good luck Lady Braves!!!

Pcs Lady Braves drop the 2nd set 25-20. On to the set 3. Go Lady Braves!!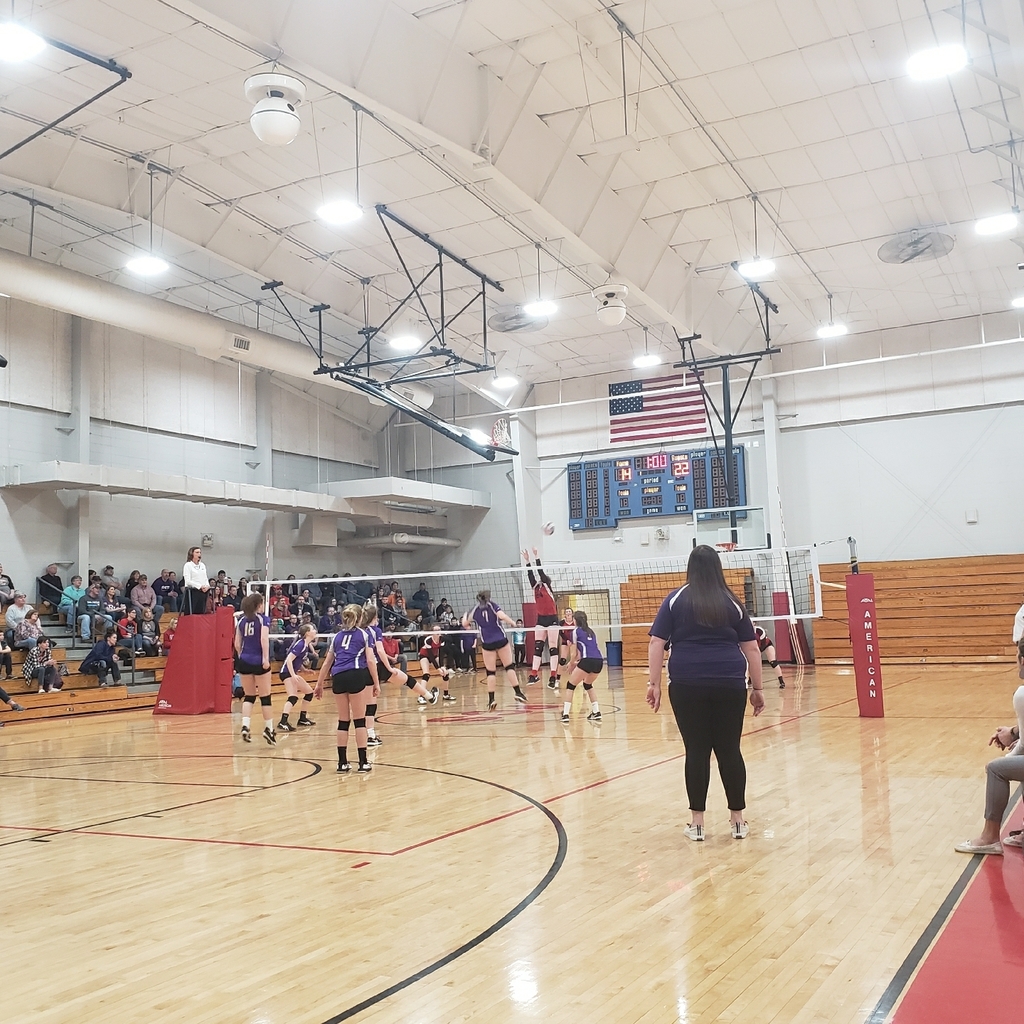 With our student section out in full support, the Pittsfield Lady Braves volleyball took the first set against Rushville in the Regional semifinal 25-20!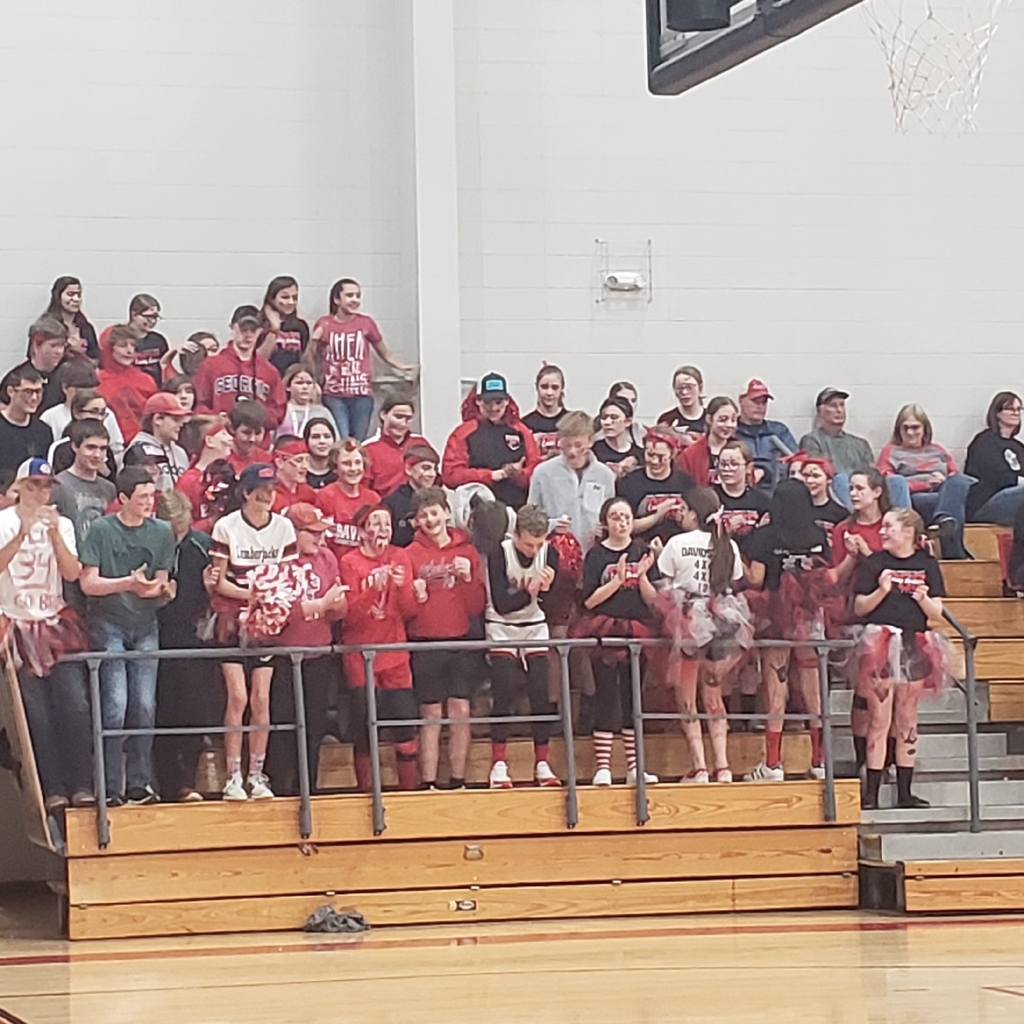 Just a reminder that today and tomorrow are early 2:45 dismissals for parent/teacher conferences. Conferences run from 4:00-7:30 each day with no school on Friday.

Best of luck to our PCS wrestlers at state this weekend!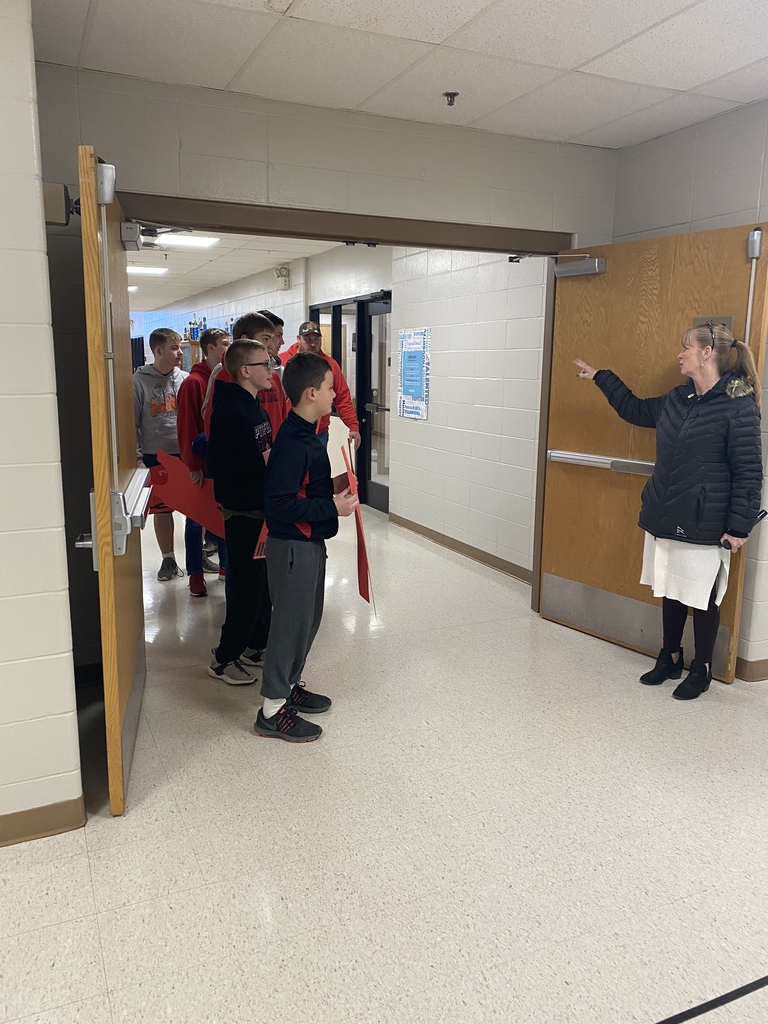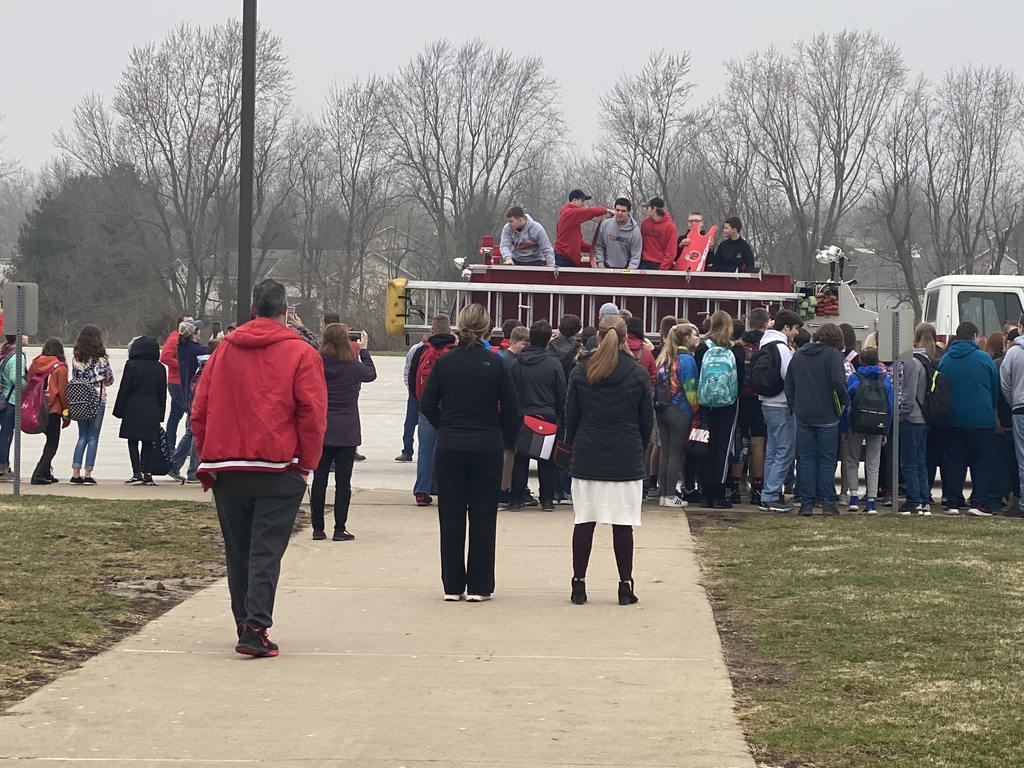 Good luck to our PCS wrestlers tomorrow at sectionals! #GoBraves